NVIDIA Partner Network
Partners in the Development of Your Jetson-based Embedded Vision Application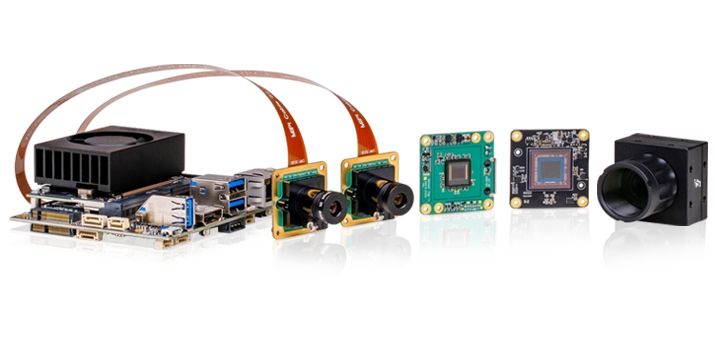 Building on over 35 years' experience in machine vision, The Imaging Source is pleased to partner with NVIDIA to allow developers to quickly realize their embedded vision projects. The collaboration will speed time-to-market and improve performance of The Imaging Source cameras with NVIDIA® Jetson™ platform.
The partnership advances The Imaging Source's strategy to extend the availability of their industrial and board cameras to MIPI CSI-2 and FPD Link™ III interfaces which will open up The Imaging Source camera portfolio to a new audience of developers and partners.
The Imaging Source's pre-assembled embedded development kits for the NVIDIA Jetson platform deliver plug-and-play efficiency for the rapid development of embedded vision and AI projects for applications in logistics, automation and industrial internet of things (IIoT).
Machine Vision at the Edge
Affordable processing power, improved machine learning algorithms and overall reduced system footprint have allowed edge computing and developments in AI (especially deep learning) to converge. Deep learning enables machine vision solutions for applications whose inspection criteria are not readily quantified or defined - delivering new possibilities for inspection, assembly, and quality assurance applications.
The combination of NVIDIA's best-in-class AI functionality with The Imaging Source's wide portfolio of robust and reliable industrial cameras enables embedded vision developers to realize applications that were previously impossible or required significant programming effort.
The Imaging Source provides open source drivers to support its MIPI CSI-2 and FPD Link III cameras on NVIDIA Jetson platforms.
Supported NVIDIA Platforms
NVIDIA Jetson is the leading embedded platform for image processing and deep learning applications. The Imaging Source supports the NVIDIA® Jetson Nano™ with additional products for NVIDIA® Jetson AGX Xavier™ and NVIDIA® Jetson Xavier™ NX platforms.
The Jetson Nano delivers compact, cost-effective AI for those looking to get started with inference-based vision tasks; NVIDIA® Jetson AGX Xavier™ is ideal for developers requiring significant processing power for high-performance and power-efficient AI computing.
Supported Camera Interfaces
The Imaging Source currently supports two camera interfaces for embedded vision: MIPI CSI-2 and Texas Instruments FPD-Link III.
The MIPI CSI-2 protocol enables direct processor / ISP connection, avoiding latency issues and minimizing footprint. The MIPI CSI-2 camera modules are perfect for single and multi-camera embedded vision applications in automotive and IoT as well as standard machine vision applications.
The Imaging Source MIPI CSI-2 cameras with FPD-Link III serializer boards offer nearly the same feature set as MIPI CSI-2 cameras, but allow cable lengths up to 15m between sensor and processor. Image data, commands and power supply are transmitted via a thin coaxial cable.
Camera Sensors
A range of the latest color and monochrome Sony Pregius (global shutter) and STARVIS (rolling shutter) sensors make up The Imaging Source's embedded camera portfolio. These cost-effective CMOS sensors deliver exceptional image quality and color fidelity. The portfolio's range of resolutions and frame rates (0.3 MP / 240 fps - 8.3 MP / 30 fps) mean that there is a sensor for almost any embedded application.