Trade Fairs
Find out when and where The Imaging Source will be exhibiting next by checking out our trade fair dates. Stay informed on the latest events and trade fairs featuring The Imaging Source's products and technology.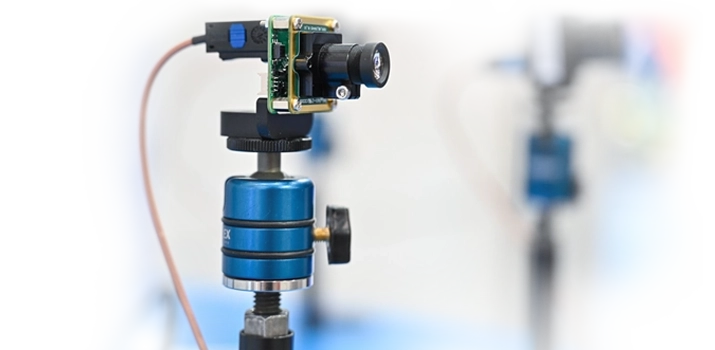 We're excited to connect with our customers in person, and invite you to visit The Imaging Source's upcoming trade fairs. At our booth, you'll have the opportunity to learn about The Imaging Source's latest industrial cameras, products for embedded vision, and software. We are eager to collaborate with you to develop the optimal solution for your vision application.
Would you like to connect with a member of our technical sales team during a show? Please contact us to make an appointment. We look forward to seeing you there!
UKIVA Machine Vision Conference (Alrad Instruments Ltd)
The ALRAD Team will be once again exhibiting and speaking at the UKIVA Machine Vision Conference 2023. Please visit them at booth 34 where they will be showcasing their latest machine vision products.
VISION China
Discover the latest solutions and trends in China's machine vision market. Together with its partner Sunvision, The Imaging Source will showcase its latest industrial cameras and machine vision solutions during the three-day show in Shanghai.
Industrial Automation (Sure Technology Corp.)
The Imaging Source's partner, Sure Technology Corp. will be exhibiting in Taichung, Taiwan, at the INDUSTRIAL AUTOMATION show. The show integrates the upstream and downstream related manufacturing industries and emerging development technologies and provides the industry with a well-equipped and high-quality exhibition platform.
Automation Taipei
The Imaging Source will attend AUTOMATION TAIPEI and present a wide range of industrial cameras and machine vision solutions. As an integral part of Taiwan's industrial development history for 30 years, Automation Taipei focuses on integrating multi-procurement platforms with manufacturer demand, offering customized automation solutions for a variety of manufacturers.
Alihankinta (Movetec Oy)
Alihankinta, a renowned trade fair in Tampere, Finland, will feature the participation of Movetec Oy, a reseller of The Imaging Source. The event serves as an ideal platform for businesses to showcase their products, services, and advancements, fostering connections and collaborations within the industry.
AOI Forum & Show
Annually organized by the Automated Optical Inspection Equipment Alliance, the AOI Forum & Show gathers technology developers, module and component suppliers, equipment manufacturers and users together for industry trends, technical information and networking opportunities. This leading trade event focuses specifically on the AOI industry, including new product launches, forums, technology trends, and publication of technical papers.
Industrial Transformation Asia-Pacific (ITAP)
Designed and curated to help companies in Asia-Pacific to start, scale, and sustain their adoption of Industry 4.0 processes and solutions, ITAP strives to build a professional community among Industry 4.0 practitioners, industrial companies, component manufacturers, software companies, suppliers, and service companies.
RoboDEX (Argo Corp.)
Launched in 2017, RoboDEX gathers robotics and automation technology experts together at one of Japan's leading robotics technology exhibitions. It attracts industry professionals who are interested in advanced robotic technologies.
AI Expo (Argo Corp.)
Argo Corp. will participate in the biannual AI EXPO TOKYO, a comprehensive exhibition bringing together advanced technologies such as artificial intelligence, blockchain, and quantum computing. Stop by the booth to see The Imaging Source's live machine vision demonstrations and get ideas and solutions for machine vision and embedded vision applications.
Teknologia (Movetec Oy)
Teknologia is a must-attend event for industry and technology professionals seeking skill development, knowledge enrichment, and networking opportunities. It serves as a meeting point for innovators, showcasing today's solutions, tomorrow's innovations, and makers, all under one roof. Explore new products, gain insights from exhibitions, and participate in extensive programs featuring seminars, presentations, and meetings.
International Technical Exhibition - ITE (Argo Corp.)
Argo Corp. will exhibit at the 44th International Technical Exhibition on Image Technology and Equipment (ITE), the largest and most advanced machine vision exhibition in Japan. ITE welcomes an international group of machine vision and imaging experts to showcase the latest products and technologies from a variety of fields such as robot vision, medical care, security, 3D, ITS, deep learning and infrastructure improvement.