NVIDIA Jetson Nano
NVIDIA Jetson Nano Provides an Ideal Platform for Computationally Intensive Embedded Vision Applications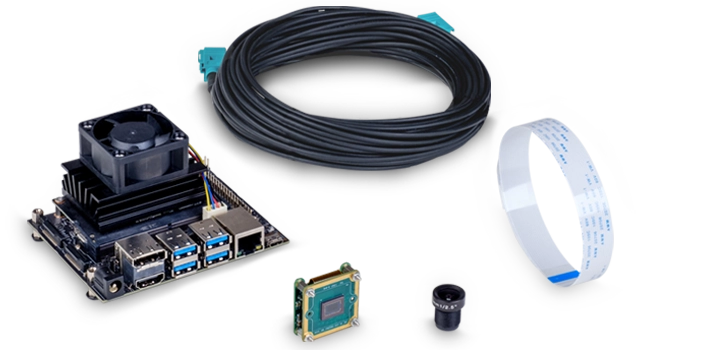 Unleash the potential of computer vision and embedded machine learning projects with the NVIDIA® Jetson Nano™, the powerful platform behind The Imaging Source's embedded development kit. The kit delivers plug-and-play efficiency for rapid development of embedded vision and AI projects for logistics, automation and industrial Internet of Things (IIoT). Select from The Imaging Source's portfolio of MIPI CSI-2 or FPD-Link III cameras which provide exceptional image quality and color fidelity and ensure sustainable application design.
Streamline your workflow via the kit's flashed SD card which contains all necessary MIPI CSI-2 or FPD-Link III drivers and a custom-designed system image, including significant convenience functionality such as preinstalled tiscamera SDK including the interactive viewer software tcam-capture. Efficiently access all sensors via the standard video4linux API or NVIDIA's proprietary API based on the libargus programming interface. The video4linux interface, for example, provides RAW video data allowing direct control of all sensor parameters.
Leveraging the hardware ISP (image signal processor) available on all Jetson platforms, the NVIDIA libargus interface delivers a processed video stream to the application with de-mosaicing, color correction and white balance algorithms applied. The Imaging Source provides a default configuration file for the ISP. Using the GStreamer interface for libargus, the application can interface with NVIDIA's standard Jetson ecosystem software stack which enables efficient integration of powerful image processing frameworks such as DeepStream, Visionworks and others.
Features
Interface: MIPI CSI-2 and FPD-Link III
Sensors: Sony Pregius, Sony STARVIS and onsemi
Form factor: Board-level (S-mount), housed, and IP67
Lenses: Mini lens (S-mount) and TIS 5MP (C/CS-mount)
NVIDIA® Jetson Nano™ FPD-Link® III
NVIDIA® Jetson Nano™ MIPI® CSI-2