New Line Of Astronomy Cameras Launched
Published on January 8, 2007 by TIS Marketing.
Today, The Imaging Source has brought to market a new line of astronomy cameras. We have just published the following press release: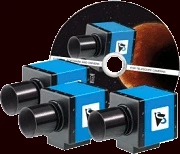 Bremen, Germany (January 08, 2007) - The Imaging Source has been manufacturing imaging products for medical, scientific and industrial applications for twenty years. Their world renowned products are known for their longevity, ruggedness and stability.
Today, The Imaging Source is proud to announce a new line of cameras designed to meet the needs of amateur astronomers. The new astronomy cameras leverage the years of experience gathered in the aforementioned fields, to bring amateur astro-photographers a highly affordable, robust and stable CCD imager for their telescopes.
Starting at only $350.00 or €290.00 (without sales tax), the FireWire astronomy cameras are available in color and monochrome models, with and without an IR cut filter, sporting resolutions of up to 1280×960 and frame rates of up to 60 fps. All cameras deploy low noise, highly reliable CCDs from Sony®.
To learn more about this exciting new range of astronomy cameras and for detailed contact information, please take a look at the following web sites:
UPDATE (April 04, 2008): In the May 2008 issue of the UK magazine Astronomy Now, Nick Howes takes a look at two new high quality CCD cameras from The Imaging Source that are set to revolutionise Solar System imaging (his wording). In co-operation with Astronomy Now, we have serialized and published the review in the Astronomy Cameras Blog. Read it here: The Webcam Is Dead, Long Live The Imaging Source!
UPDATE (October 08, 2008): Since the above article, we have have received serveral awards and have been written about in most astronomy publications in Europe and USA. Download the full text of the reviews in the astronomy cameras Press Center.
Please do not hesitate to contact us for more information.