Aimex 2008, Seoul, Korea
Published on January 30, 2008 by TIS Marketing.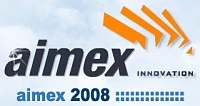 The Imaging Source is exhibiting with Viewrun at the AIMEX 2008 in Seoul, Korea from March 5, 2008 to March 8, 2008.
We will publish some photos here in the blog, the moment we get back to Germany!