The Imaging Source Industrial GigE Camera at FieldRobot 2010
Published on June 24, 2010 by TIS Marketing.
Between June 11, 2010 and June 13, 2010 FieldRobotEvent took place in Braunschweig, Germany. It was be organized by the Institute of Agricultural Machinery and Fluid Power at the Technical University of Braunschweig. The three day event was hosted on the test ground of the Johann Heinrich von Thünen-Institut (vTI) on the western outskirts of Braunschweig.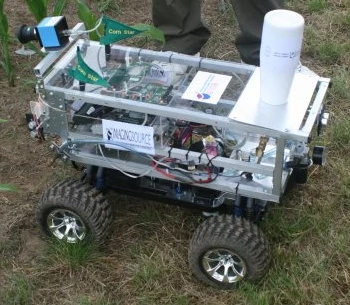 At the event, agricultural robots, invented by students of several European universities, fought against each other, completing tasks set by an independent jury. This year, a robot called CornStar, invented by the Faculty of Agriculture and Life Sciences at the University of Maribor, Slovenia was fitted with the industrial GigE camera with auto-iris DFK 31AG03.I, manufactured by The Imaging Source.
Together with his team, the captain, Miran Lakota entered CornStar into two heats: i) basic navigation and ii) weed control. The robot reached forth and eight place respectively.
The Imaging Source would like to thank Jurij Rakun, a member of the CornStar team, for submitting detailed information on the robot and event.