MIPI/CSI-2 Modules: up to 15 m with FPD-Link III
Published on June 3, 2019 by TIS Marketing.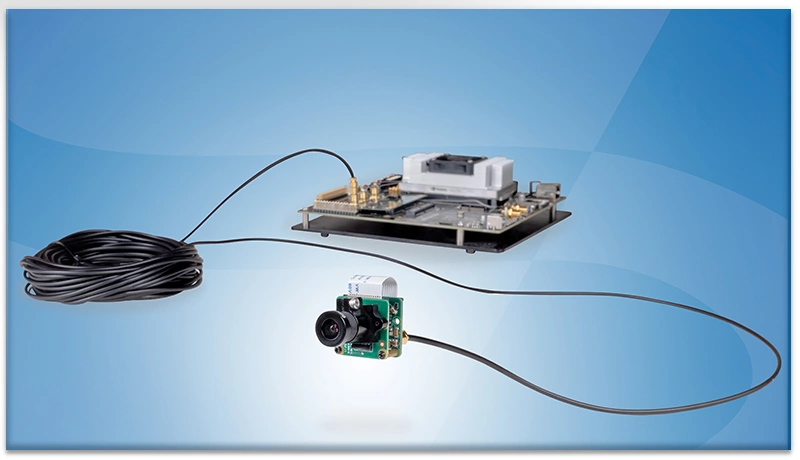 Those people looking for the latest trends in embedded vision at this year's Embedded World in Nuremberg could not overlook the presence of MIPI/CSI-2. Behind the abbreviation MIPI/CSI-2 is the Camera Serial Interface 2 (CSI-2), specified by the Mobile Industry Processor Interface Alliance. This alliance, which consists of over 250 companies worldwide, specifies interfaces for mobile devices which includes not only camera interfaces such as CSI-2 but also, for example, interfaces for displays (Display Serial Interface 2, DSI-2) or audio devices (SoundWire, SLIMbus). MIPI Alliance's focus is the interface standardization of mobile end devices, enabling various interfaces to operate in the same physical layer. In the meantime, MIPI/CSI-2 has firmly established itself in industry and the embedded systems used there. The reasons for this are diverse: For one, SoCs (Sytem on a Chip) originating from the smartphone segment, became available as industrial variants, offering the CSI-2 interface by default; and for another, MIPI interface components are very widespread, well-tested, inexpensive and energy-efficient.
MIPI for Vision
Today's SoCs with MIPI/CSI-2 inputs generally offer hardware-accelerated image pre-processing operations via an Image Signal Processor (ISP). The ISP takes over operations such as de-mosaicing or color correction and, on some platforms, even demanding tasks such as H.264/H.265 coding or distortion correction. The ISPs usually only process data that is delivered via the MIPI/CSI-2 inputs. This excludes, therefore, the processing of data from GigE-Vision or USB3-Vision devices via ISP. Optimal use of the SoC's hardware resources (including ISP), however, requires the MIPI/CSI-2 interface. The SoC performs almost all image pre-processing tasks (i.e. operations that were often calculated directly in the camera in the case of industrial cameras) allowing for the use of compact and cost-effective camera designs. Another driver for MIPI/CSI-2 is currently the automotive industry's use of intelligent driver assistance systems. Today, hardly a vehicle rolls off the assembly line without camera modules or displays. In addition to digital rear-view mirrors, surround view, distance control or collision avoidance, MIPI Alliance protocols are also used for such components as infotainment systems.
15 m Cable Thanks to FPD-Link III
Especially in the automotive sector, however, one is quickly confronted with the problem that standard ribbon cables, such as those used in smartphones between SoC and camera module, rarely allow cable lengths beyond 30 cm. Camera modules in an automotive surround-view application, for example, require cable lengths of several meters. The same often applies to industrial applications where camera modules are being installed into systems. The Flat Panel Display Link III (FPD-Link III) interface from Texas Instruments provides a solution. Designed for the transmission of high-resolution video data for automotive applications (in addition to pure data transmission), the interface offers bidirectional channels for control commands (e.g. for configuring a camera module via I2C or feedback from a touch display), as well as the option of power supply via a single coaxial cable. Such cables are thin, flexible and inexpensive - features that play a decisive role in price-sensitive market segments like the automotive industry. Two additional components are used to transmit the MIPI/CSI-2 signals via FPD-Link III: a serializer that translates from MIPI/CSI-2 to FPD-Link III and a deserializer that translates from FPD-Link III back to MIPI/CSI-2 (Ser-Des). While the serializer is placed directly on the camera module, the deserializer is located near the MIPI/CSI-2 input of the processing SoC. The FPD-Link III path is completely transparent for the user. The Imaging Source recognizes the need for longer transmission systems and now offers, together with its MIPI/CSI-2 modules, FPD-Link III bridges for common embedded systems such as NVIDIA Jetson.
The above article, written by Dr. Oliver Fleischmann (Project Manager at The Imaging Source), was published in the April 2019 edition (02 2019) of the German-language industry journal inVISION under the title, "Einfach länger: MIPI/CSI-2 Module bis 15m Kabellänge mit FPD-Link III". Translated into the English by Amy Groth.