TIS to Make its Debut at Embedded VISION Europe (EVE) 2019
Published on September 25, 2019 by TIS Marketing.
From October 24 - 25, 2019, The Imaging Source will attend Embedded VISION Europe (EVE). Our technical sales and project managers will be there in Stuttgart, Germany to showcase our latest product developments.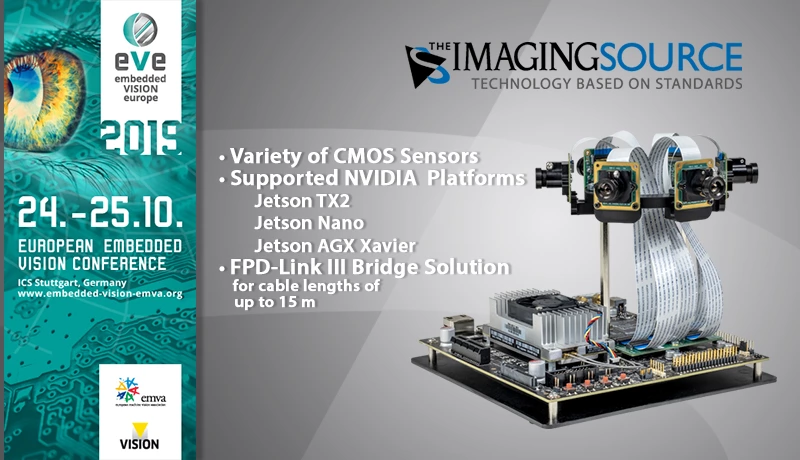 The Imaging Source will present the new MIPI / CSI-2 module lineup together with a novel FPD-Link III™ Serializer / Deserializer bridge. The new product line features a variety of industrial sensor modules and supported platforms. The compact camera modules directly execute demosaicing, color correction and other post-processing tasks via the ISP of the embedded target platform.
For applications where longer cable lengths are required, The Imaging Source offers a bridge solution using the FPD-Link protocol. The FPD-Link III bridge allows for cable lengths up to 15m and simultaneous data transmission, control channels and power over a single compact coaxial cable.
The Imaging Source provides embedded system solutions based on the most powerful embedded platform currently on the market: The NVIDIA Jetson (TX2, Nano and AGX Xavier). In addition to its powerful GPU, it offers a dedicated ISP which processes 12 CSI-2 camera lanes with up to 1.5Gbps per lane and up to six simultaneous camera streams.