Lenses Selection and Setup - Part 4
Published on June 20, 2008 by TIS Marketing.
Please Note: This blog post is part of a series of five posts altogether. The posts include: Part 1, Part 2, Part 3, Part 4 and Part 5.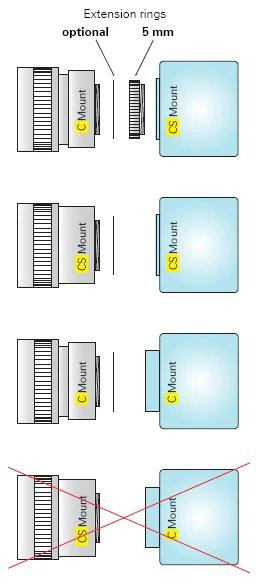 #### Step 4: Setup
In the field of digital image processing, we have a standardized lens mount with two variants: C mount and CS mount. This leads to four combinations (see image on the right), one of which does not work: CS mount lenses can not be used with C mount cameras.
If you, on the other hand, would like to attach a C mount lens to a CS mount camera previously simply screw a 5 mm extension ring into the camera.
If Step 3 (How to deal with very small working distances) should have turned out to require an additional extension ring, simply put it between the camera and the lens (like a grommet).
Please note: The Imaging Source exclusively manufactures CS mount cameras. Each of the cameras is shipped with a 5 mm extension ring.
Special case: Wide-Angle Lenses Very large objects and/or small working distances often force us to use lenses with very small focal lengths. The following example depicts the selection of such wide-angle lenses: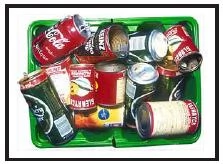 Waste sorting:
Object width = 700 mm
Working distance = 500 mm
CCD format = 1/4" (CCD width = 3.2 mm)
In this case the focal length is 2.3 mm and thus one of the lowest commercially available. Therefore, we use the Computar T 2314 FICS-3 (see table below).
Computar wide-angle lenses are used for applications which require the lowest focal lengths.
Please note: These lenses are only available as CS mount versions and therefore can not be used with C mount cameras.

Please note: The optical quality of wide-angle lenses falls short of the quality of "normal" lenses. This may be a crucial point in the context of visualization purposes and/or customer presentations since a bad image quality often rubs off on the complete system.
To be continued...