TIS to Make its Debut at Embedded World 2019
Published on February 11, 2019 by TIS Marketing.
From February 26 - 28, 2019, The Imaging Source will attend embedded world for the first time. Our technical sales and project managers will be staffing the booth (Hall 3A, Booth 417) in Nuremburg, Germany to showcase our latest product developments.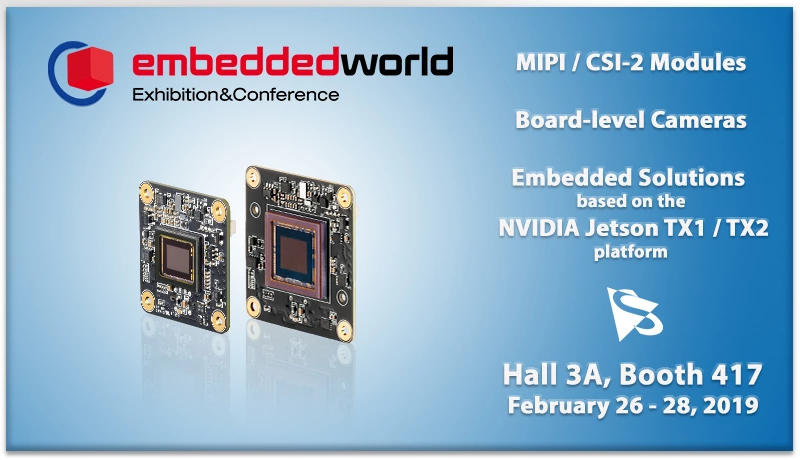 The Imaging Source will present the new MIPI / CSI-2 module lineup together with a novel FPD-Link III™ Serializer / Deserializer bridge. The new product line features a variety of industrial sensor modules and supported platforms. The compact camera modules directly execute demosaicing, color correction and other post-processing tasks via the ISP of the embedded target platform.
For applications where longer cable lengths are required, The Imaging Source offers a bridge solution using the FPD-Link protocol. The FPD-Link III bridge allows for cable lengths up to 15m and simultaneous data transmission, control channels (e.g. I2C or CAN) and power over a single compact coaxial cable.
The Imaging Source provides embedded system solutions based on the most powerful embedded platform currently on the market: The NVIDIA Jetson TX1 / TX2. In addition to its powerful GPU, it offers a dedicated ISP which processes 12 CSI-2 camera lanes with up to 1.5Gbps per lane and up to six simultaneous camera streams.
In addition to the new MIPI/CSI-2 module lineup, "AI Labs", a subsidiary of The Imaging Source dedicated to automation intelligence and artificial intelligence, will introduce their first product, Pick & Load, to the public.
Pick & Load is an affordable and efficient solution for the automation of machine loading and unloading tasks. Even small and medium sized enterprises can now automate their CNC loading and unloading tasks. A compact 3D sensor with active illumination is integrated with an embedded system and smart software to deliver a cost-effective solution with low power dissipation and a compact form factor. With a minimum amount of time and effort, Pick & Load can be configured to load and unload unpalletized parts from tables, palettes or drawers.
Please contact our Sales Department, if you require an entry pass to embedded world 2019.